Guilty Conscience
Locate the Second Pilot
You will find a
camp
and proceed to wander through the canyon, looting any
food caches
and
salvage crates
you find. Lara will then find the pilot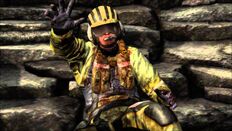 sitting on the other side of a bridge.
The Solarii toss explosives down below and Mathias appears. He orders them to kill Lara and one of the men punches her in the face. Through her bleary eyes, Lara sees some mysterious warriors come into the area and wipe out some of the Solarii.
Ad blocker interference detected!
Wikia is a free-to-use site that makes money from advertising. We have a modified experience for viewers using ad blockers

Wikia is not accessible if you've made further modifications. Remove the custom ad blocker rule(s) and the page will load as expected.