Going Back In
Take the PT Boat Up the River to the Monastery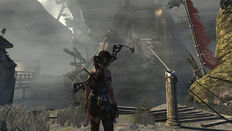 Hop onto the boat to take you back to the Mountain Pass. The boat will come to a stop and Lara climbs out.
Enter the Monastery
Fire a rope arrow at the craggy wall and use your rope bridge to make it across. Move through the tunnel to find Whitman, Mathias, and Sam.
NOTE: You cannot access the Mountain Village from here, as the entrance is blocked with a gate.
Shoot a rope arrow into the craggy wall across the chasm and climb across. Scale the wall and then, when you reach land, scramble up the wall to enter the monastery.
Ad blocker interference detected!
Wikia is a free-to-use site that makes money from advertising. We have a modified experience for viewers using ad blockers

Wikia is not accessible if you've made further modifications. Remove the custom ad blocker rule(s) and the page will load as expected.